CHARLES EVERHARDT
Current Chairman of the Board
Prior to 1992, Charles Everhardt was a musician, talent agent and concert promoter.
Real Estate, Gaming, Payments & Philanthropic
For over three decades Charles Everhardt has been active in many aspects of real estate, development, construction, lending, banking, and the purchasing of distressed assets, repurposing them and reintroducing them back into the market with applause from the community.
1992 -1997: Under the direction of Oppenheimer & Co., NYC for Oppenheimer's gaming clients, Charles sourced and pre-developed certain gaming projects in Mississippi and Alabama. In this capacity, he was the primary point person with responsibilities that included acquisition, entitlement, and pre-development services. The projects were located in the following cities in Mississippi; Tunica, Natchez, Gulfport, and Biloxi, and the 'to-be-considered-gaming-jurisdiction' of Mobile Alabama. Today, (in year 2023), Charles continues his efforts with gaming projects such as a current 400 room, 45,000 square foot ground up, "themed" hotel and casino project located on Las Vegas Boulevard, South as a Rock and Brews Casino.
Real Estate Advisory, 1998 -1999: Chicago, Illinois: Worked at GMAC Commercial Real Estate, where he successfully managed the commercial real estate division that specialized in advising publicly traded Real Estate Investment Trusts (REITS) with certain acquisitions.
Commercial Real Estate Development, 2000 - 2006: Charles started developing commercial real estate projects in the Midwest, the Chicago marketplace primarily. Below are some highlighted projects:
2001:

Charles created a joint venture with Lehman Brothers. Under this JV relationship, Charles purchased 54 operating Speedway Super America gas stations from U.S. Steel. The gas stations were in Illinois, Wisconsin, Indiana, and Michigan. Charles re-branded them to Marathon, then sold all 54 stations to independent dealers with the total deal size, $50.0 +/- million.

2001:

Charles became a preferred build-to-suit developer for Shell Oil, Citgo, and BP/Amoco; he developed, built, and delivered about $20.0 +/- million of build-to-suit projects as a merchant builder, for these clients.

2002:

Charles became a franchisee of celebrity chef, Wolfgang Puck developing and opening a new food concept restaurant "Wolfgang Puck Gourmet Express" in Warrenville, Illinois. Charles hired Levy Restaurants as the restaurant management company.

2002 - 2003:

Charles purchased the area development rights from Allied Domeq, to develop and operate 50 Dunkin' Donuts, Baskin Robbins, Togo's Great Sandwich franchise operations in multiple counties in Wisconsin. After building and operating several locations, Charles sold the master franchise and stores. Illinois: Naperville, West Dundee, Gurnee Mills Mall, East Elgin are cities where Charles developed and operated Dunkin Donut, Baskin Robbins locations (all but Gurnee Mills Mall, with Togo's Great Sandwiches).

2004:

Charles developed multiple retail strip centers throughout the Midwest. Charles converted multiple residential rental properties in Chicago to for sale condominiums, i.e., Foster Avenue, Wrigleyville, Andersonville.

2005

: Charles purchased over 1.0 +/- million square feet of Class C office buildings (five buildings in the portfolio) in the central business district (CBD) of downtown Chicago and successfully converted about many of the office buildings to luxury apartments and luxury condos, as follows:
188 West Randolph Street, Chicago, Illinois
Current Project Value: $300.0 +/- million.
In 2005, Charles purchased the Randolph Tower (located at 188 W. Randolph Street, Chicago) for $10.0 +/- million through a successful, strategized "stalking horse bankruptcy bid process" out of Bankruptcy court. The 47-story concrete and masonry office building with first floor retail was built in 1929 and renovated in 1982. The top floors of the building were originally operated as a private Gentleman's Club catering to the elite businessmen of the day. The present amenities include a Health club with indoor pool on the 27th floor. The building is approx. 370,000 square feet. With a great purchase price of about $35 per square foot and located on the northeast corner of Randolph and Wells St. (adjacent to public transportation lines and two blocks from Wacker Drive and the river) in the Theater District of downtown Chicago Charles' efforts successfully secured City of Chicago $30.0 +/- mil, of Tax Increment Financing "T.I.F." as well as Tax Historical Credits of about $20.0 million To support the project so that the overall cost of the project would be significantly reduced below current market costs Charles secured $44.0 +/- mil in Municipal Bond Funding @ 4 ¼% from Bank of America. Charles' and his group of investors received an offer to purchase their interests in the project which they accepted. The Randolph Towers (346 residential rental units) today, is considered one of Chicago's most prestigious and successful multi-family historic buildings with occupancy in the high 90% with a valuation of about $300.0 +/- million.
The Plymouth Building, 417 S. Dearborn St.
Chicago Project Size: $7.0 +/- million.
Charles Everhardt acquired this attractive 11 story Landmark Office Building with first floor retail, built in 1927 and renovated in 1989, strategically located in the downtown Chicago Loop area and to convert the building to residential condos. The Plymouth Building was the work of architect Simeon B. Eisendrath, who was in the employ of architectural deity, Louis Sullivan's firm. Charles sold the project to a joint venture partner upon completion of the construction loan financing.
407 South Dearborn Street, Chicago (upgraded, and remains as office, Charles sold the building in 2006).

401 South LaSalle Street, Chicago (upgraded, and remains as office, Charles sold the building in 2006).

330 South Wells Street, Chicago (upgraded, and remains as office, Charles sold the building in 2006).

1140 North LaSalle Street, Chicago, Illinois. Project Size: $30.0 +/- million
Charles Everhardt acquired 1140 North LaSalle Street, located in the Gold Coast, a fully renovated, fully rented, vintage eight-story elevator building. Its 250 Units consisting of 222 Studios and 28, 1-Bedroom Units have been converted to 250 Condo Units. Each Condo Unit was being sold "AS IS", for an approximate total value of $30.0 million. The advantage of this Project was that there is no construction risk as the Condo Units were being sold "As Is". 1140 North LaSalle Street Apartment Complex was purchased by Charles for $19.7 million. Financing was provided by the First Bank; and approximately $3.65 mil of equity was provided by Weyerhaeuser Realty Investors ("WRI"). WRI is a timber and home builder conglomerate headquartered in Seattle, Washington.
Rainbo Village Development
Project Size: $50.0 +/- million
2005 - 2006: Charles, as the lead developer and primary owner, developed one of Chicago's highest profile Award Winning residential and retail use developments, the Rainbo Village, at 4836 N. Clark (Clark & Lawrence Ave.). The Rainbo Village is located on about two-and-a-half-acres. The $50.0 +/- million development included a combined 127 condos and townhouses together with 15,000 +/- square feet of retail space. Construction commenced September 2005.Rainbo Village secured three-phase construction financing in the amount of a $50.0 million revolving loan which was provided by Ohio Savings Bank and approximately a $5.0 million mezzanine loan was provided by IRP Mezzanine Lender, an affiliate of ING Realty Partners II Acquisition Company. New Homes publication, in its June 2004 edition chose Rainbo Village as the best mid-rise condo: "In the category of best mid-rise condo, New Homes chose …Rainbo Village as much for the scope of the two-acre development and its likely impact on the neighborhood as for the forward-looking design of its new construction "loft" and condo buildings."
2007: City of Las Vegas, Oscar Goodman: Charles was personally solicited by the Oscar Goodman (then Mayor of Las Vegas) to develop an NBA stadium in downtown Las Vegas and negotiate the purchase of an NBA team and relocate that team to Las Vegas and raise money for the project through EB5 visa immigration program in China. With Charles' successful effort to attract NBA superstar Shaq O'Neil to become part of the stadium and team, and with Shaq's presence to attract EB5 investors in China, Charles developed a full plan for the City of Las Vegas. The result was that after the NBA All-Star fiasco in Las Vegas, the NBA decided that they were not ready to approve an NBA team for Las Vegas.
2007: Las Vegas: Charles financed and developed multiple Checkers Restaurants in Las Vegas.
2008: Las Vegas: Charles advised on the purchase of the Hooters Hotel Casino note sale, & the financing for Binion's Hotel Casino.
2009: Las Vegas: Purchased 14 houses from a distressed home builder with Cypress Equities. Rehabbed and sold off.
2009: Las Vegas: Created Netco Title Insurance (Las Vegas office). Initiated title business program with the City of Las Vegas.
2010-2011: Chicago, Illinois: Created and established a successful video lottery/video poker licensed, gaming route in Illinois with partner, David Hanlon. Charles raised millions of dollars of investment capital from Alpine Capital Partners & its subsidiary American Gaming Systems (AGS) to purchase existing routes and place video gaming machines into their related locations. Charles was President of Sierra Gaming Services, an Illinois based gaming company, that acquired several ATM machine routes in Illinois, which ultimately proved successful for the placement of about 1,000 video gaming machines (each liquor license in Illinois can host up to 5 video gaming machines). Charles created procedures, protocols, hired and managed the staff, and created value for the Sierra Gaming Services with the continued growth of new acquisitions. Charles & Dave sold the Company in 2011.
2012-2013 Charles created and became a partner with Infinity Cards & founded Spindletop Ventures:
Infinity Payroll Cards

: Created and managed several custom-made Mastercard debit-card programs, i.e., payroll cards with direct deposit from employer.

Spindletop Ventures LLC:

Charles, as President raised millions of dollars of equity for Spindletop Ventures (a start-up), for its affinity prepaid debt cards: (i) Michael Jackson Legacy of the Legend: Created a global, social marketing plan with more than 50 million Michael Jackson fans, (ii) the Alzheimer's Foundation of America, Affinity Card, with country music singer, Glenn Campbell, (iii) A Major League Baseball, MLB (500 homerun club card) with Baseball, Hall of Famer, Ernie Banks, (iv) NBA retired players, pre-paid debit card, together with the establishing of a financial literacy program for the retired NBA Players Association.

MasterCard:

Established a world-wide relationship to brand all affinity card programs with Spindletop Ventures.

Google Wallet:

Analyzed, negotiated & configured a merger between Unicache and Google. In 2012, Unicache owned a global Bank Identification Number ("BIN"). Google Wallet decided to partner with Discover Card, rather than Unicache.

Catella Bank Group:

Sweden/Luxembourg: Charles negotiated and secured the Catella Bank Group & MasterCard to sponsor, distribute and fund the Michael Jackson affinity card partnership which launched LIVE, in eight European countries.

Green Dot:

Established a platform distribution relationship for the Spindletop Ventures Affinity Card Programs throughout the U.S.
Blockchain Technology Newsletter:

Charles created and wrote a daily newsletter (to over 100 of Charles select investors) educating them on how Blockchain technology will impact the fusion and evolution of real estate, with global payment systems & banking, and cryptocurrency. Charles has established a working relationship with Ron Schreiber (Soft Bank Capital co-founder) to assist with the advising of these emerging market initiatives.
Blackhawk Network:

Established a platform distribution network in UK, Ireland, and a few European countries for the Spindletop Ventures Affinity Card Programs.

NCR:

Charles and the NCR design team custom-designed an ATM machine that included (i) "geo-fencing technology" (ii) "push technology" with customer couponing and (iii) customer acquisition and retention. This custom-made ATM/Coupon (prototype) was being designed for Family Dollar Stores (with about 8,000 U.S. retail locations). The Family Dollar customer was, and is still considered, underbanked, or un-bankable.
2013 – current: Lockwood Development Partners.
2013-2014: Creating the Lockwood team. Lockwood was retained by numerous third-party property owners to analyze and create financial models for many large residential development projects in the Miami market. During this period, Charles has worked closely with Plaza Construction and China Construction Company with most of these projects.
2015 - 2016: Midway Airport ground purchase. 144,000 Gross Square feet of land purchase. After reconfiguring and designing the property as a hotel site, Lockwood and Charles sold the property in 2017.
2017: Alabama: Equity Interests in the Four Alabama Hilton Hotels. Ownership in 1-Hampton Inn, Mobile Alabama, 1-Hampton Inn, Daphne Alabama (a high-end suburb of Mobile), 1-Hilton Garden Inn, Daphne Alabama and 1-Homewood Suites, Daphne Alabama: Total Capitalization was $46.0 mil. On March 9, 2017, Charles raised and closed on $14.0 mil of cash equity and purchased these four hotels in a partnership with a few equity partners. Charles secured, sponsored, and closed a senior loan of $32.0 mil for the four Hilton Hotels with Varde Capital. Lockwood is an equity owner, franchisee with Hilton, and co-asset manager for the 4 Hilton Hotels and Commonwealth Hotels is the day-to-day hotel manager. Subsequently, Charles and team sold off the Mobile Alabama Hampton Inn because it didn't fit the growth profile of the other three Daphne Alabama hotels, and Charles, as manager of the various limited liability companies secured a $29.0 million CMBS Citi Bank Senior Loan (10 years fixed) in February 2020.
2018: Strategic Hotel Portfolio Natixis Bank, The Waldorf Astoria, NYC.
Charles retained the advisory firm of Berkadia and the investment bank of Jeffries Securities to advise Charles and Lockwood as to being the purchaser of the Anbang Hotel Portfolio. The portfolio included 15 Strategic Hotels valued at $6.0 Billion and the Waldorf Astoria, NYC, valued at $5.0 Billion when fully renovated. Charles and the team flew to Beijing three times in pursuit of purchasing these assets. Charles secured a term sheet from Natixis Bank for $5.4 Billion to purchase the 15 Strategic Hotels for $6.0 Billion. Charles received approval from the Chinese Government Committee to purchase the Waldorf Astoria in 2019, but the Chinese Government suddenly moved into a different direction and neither transaction closed.

"A Las Vegas real estate developer and its partners have expressed interest in buying a 15-hotel portfolio from Beijing-based Anbang, The Post has learned. The portfolio includes Manhattan's Essex House — but Anbang, which owns a total of 18 US hotels, is being coy about whether the Central Park South property is to be sold, the developer said. The developer, Charles Everhardt & Lockwood Development Partners — and its partners in the deal, a group of hotel franchisees — said Anbang, recently taken over by the Chinese government, is asking suitors to bid based on the rate of return on hotel income for an undetermined 15 hotels."
2019: Purchase of closed hospital in New Castle Pennsylvania.
The project is currently under development to repurpose the closed hospital into affordable housing. The Project Cost is approximately $40.0 million.
2020: Purchase of Metro South Hospital, Blue Island Illinois.
On March 20, 2020, Charles closed on the purchase of the closed hospital from Quorum Health Hospital REIT. At the height of the Covid-19 pandemic, first the City of Chicago, then the State of Illinois (IEMA) took possession of the Metro South Hospital by utilizing Governor Emergency Powers. The State of Illinois occupied the hospital for 14 months. Currently the hospital is under development and construction to convert itself to a senior housing project.
2020: Purchase of Americas Best, Holbrook, Arizona
In February 2020, Charles and a Lockwood affiliate company purchased a 55-room hotel located on Route 66 in Holbrook, Arizona. There were only 12 operating rooms when the property was purchased, and the property was in very bad shape. When Covid-19 severely hit the Navajo Nation in 2020, Lockwood donated rooms and food to help the Navajo's. This gesture has proven to be the right thing to do, as the Navajos are renting most of the units at this property and veteran Navy officer CiCi Baker, a native Navajo is our general manager.
2021: Purchase of Hospitality Portfolio of hotels from individual owners (1,550,00 square feet).
With a first closing in June 2021, Charles secured $162.0 million of senior debt and $58.9 of equity to close on a $225.0 million hotel acquisition. Then later that year Charles refinanced $120.0 million and secured two alternative senior lenders who provided $56.0 million and $105.0 million with the additional acquisition of the Dallas Crowne Plaza Hotel.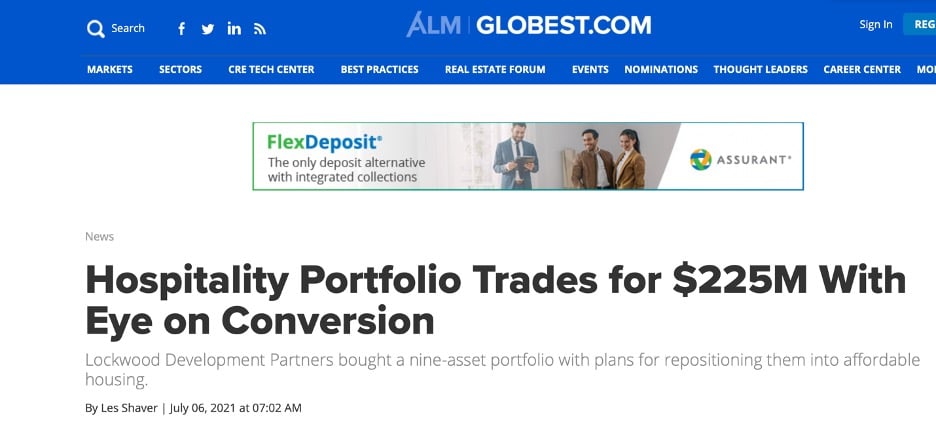 "Lockwood Development Partners has bought a portfolio of nine hospitality properties across eight states, amassing 1,550,000 square feet with a total value of approximately $225 million. Lockwood plans to reposition the properties, which have struggled during the pandemic. After they are repositioned, the properties will feature a sustainable hotel operation, affordable multifamily housing, and ghost kitchens. The properties will also serve as a resource for veterans to receive permanent housing, physical and mental assistance, and other support programs through SarahCare, an organization dedicated to providing resources for seniors. The properties include Crowne Plaza, Memphis, Tennessee, (319 rooms) Crowne Plaza, Austin, Texas, (293 rooms), Clarion Hotel, Orlando International Airport (335 rooms), Crowne Plaza, Houston (243 rooms), Crowne Plaza, Dayton, Ohio, (283 rooms), Crowne Plaza, Reading, Pennsylvania, (259 rooms), Garden Plaza, Marietta, Georgia, (218 rooms), Former Marriott, Jackson, Mississippi, (303 rooms) and Crowne Plaza, Tulsa, Oklahoma, (286 rooms).
2021: Restaurant Development: Charles and a partner has developed two restaurant concepts, (i) "RBistro", featuring Mediterranean cuisine and entertainment. This concept has been designed to operate within the hotels owned by Charles and Lockwood, and (ii) "PizzaLand", an offshoot from the HBO television show, the "Sopranos". The PizzaLand concept has ambition to expand internationally.
2022: Sold five (5) of the (11) hotels for a reduction in debt of approximately $105.0 million. Between September 2020 to January 2023, Charles paid back over $350.0 million of commercial loans to numerous lenders reducing Charles exposure to the debt markets and focused on developing and stabilizing Lockwood's core assets.
2023- current:
Chairman of the Board

of a public company, Innovative Med Tech Inc. which owns Sarah Care, which is the largest adult day care franchisor in the U.S.

Chairman of the Board

of Veteran Services USA (VSUSA), a 5013C3 non-profit. VSUSA's mission is assist U.S. veterans with housing, education, and the mitigation of post-traumatic stress issues. As a fund-raising event, iconic fashion designer Donna Karan is spearheading a fund-raising event for VSUSA, repurposing authentic military clothing to high fashion. Kenneth Cole, Tommy Hilfiger, Emily Bode and many others are participating in this veterans fund-raising event.
In honor of Veterans Day, Nov. 11, Donna Karan is beginning an initiative in partnership with Veteran Services USA, or VSUSA, a nonprofit organization committed to supporting returning and senior veterans by providing access to programs that enable successful life transitions, and Cheri Kaufman, VSUSA partner and founder of Kaufman Astoria Studios, to raise funds in support of VSUSA's ground-breaking PTSD program that utilizes RTM.
During her ongoing work with the VSUSA, Kaufman told WWD, she shared with Donna Karan that she had come across warehouses of clothing including jackets, hats and boots. The pieces, she said, were in great condition and the designer agreed just right for repurposing. Together, Kaufman and Karan devised a plan to redesign the pieces for head-to-toe looks that could be auctioned off to raise money in support of veterans.

In honor of Veterans Day, Nov. 11, Donna Karan is beginning an initiative in partnership with Veteran Services USA, or VSUSA, a nonprofit organization committed to supporting returning and senior veterans by providing access to programs that enable successful life transitions, and Cheri Kaufman, VSUSA partner and founder of Kaufman Astoria Studios, to raise funds in support of VSUSA's ground-breaking PTSD program that utilizes RTM.
During her ongoing work with the VSUSA, Kaufman told WWD, she shared with Donna Karan that she had come across warehouses of clothing including jackets, hats and boots. The pieces, she said, were in great condition and the designer agreed just right for repurposing. Together, Kaufman and Karan devised a plan to redesign the pieces for head-to-toe looks that could be auctioned off to raise money in support of veterans.
Additional real estate development projects:
Licensee of Hard Rock Hotels for numerous hotel development locations in the U.S.

Licensee of Rock and Brew Casino for Las Vegas Boulevard Hotel Casino. (proposed/work-in-process).

Owner of 6 Vitality Hotels (1,700 rooms). Charles and team created a new hotel brand and concept featuring (i) high technology (ii) wellness and health programming and (iii) a loyalty program supported by the VISA Vitality Travel Card with a digital wallet and benefits program.

Owner of 350,000 SF Marion Mall which is being converted to senior housing.

Owner of 550,000 SF Metro South Hospital which is being converted to senior housing. 140,000 SF is being used as a film studio which is being rented to Apple TV, Dick Wolf Productions Lions Gate Productions and others.
Eddie Dovner
Eddie Dovner has 40 years of real estate investment, development, and finance experience. He is a serial entrepreneur who started one of his businesses with a $10,000 investment and brought sales to nearly $100 million. His development experience spans across office buildings, multi-family subdivisions, and hotel properties. Eddie and Charles have partnered on numerous adaptive reuse and conversion real estate projects.
Maximillian Everhardt
Maximillian Everhardt began his real estate career at just 20 years old when he founded the Navigate Group, a short-term rental operator, managing properties in Illinois, Florida, and California. Maximillian holds a Bachelor of Science in Real Estate from DePaul University's Driehaus College of Business and is currently attending law school.
Bruce McDermott
Bruce McDermott joins VSUSA with nearly 40 years of investment and private banking experience to originate and finance new opportunities. He spent most of his career at Deutsche Bank and predecessor companies Bankers Trust Company and Alex. Brown & Sons, where he served in multiple senior roles in various divisions such as Equity Institutional Sales, Equity Capital Markets, Research Management, Investment Solutions, and raising private capital. After many years on the institutional "sell side," Bruce led Product Management and Solutions for the Deutsche Bank Private Wealth Management in the Americas. Leading a team of professionals in traditional and alternative asset classes, he crafted a top-tier investment platform for ultra-high net-worth (UHNW) families and individuals. He has specialized in the origination, structuring, syndication, and distribution of exempt direct private placements to UHNW families, endowments, and foundations, having originated over 70 equity deals and raising over $10 billion in total capital for companies and asset acquirers. He holds a Bachelor of Arts in Political Science from Monmouth University.
Andy Golubitsky
Andy Golubitsky has over 12 years of real estate development experience. Prior to joining VSUSA, Andy held positions at Macklowe Properties and Douglaston Development, where he developed multiple residential, retail, and hotel properties. Prior to his career in real estate development, he practiced architecture in Boston, New York, Moscow, Kuwait, Istanbul, and Port-au-Prince, and worked on projects ranging from large-scale master plan mixed-use communities, multi-billion-dollar hospital additions, ambulatory care facilities, data centers, university campus buildings, dormitories, luxury and affordable multi-family projects, private residences, and commercial interiors. Andy holds a Master of Science in Real Estate Development as well as Urban Design from Columbia University, and a Bachelor of Architecture from Syracuse University. He is a Leadership in Energy and Environmental Design (LEED) accredited professional and an adjunct professor at Columbia University.
Gbenga Omosuyi
Gbenga Omosuyi has experience with institutional investing, business development and strategy, and relationship management. He started his career at the Corporate and Investment Bank (CIB) division of Deutsche Bank AG, New York, where he managed institutional clients' business development and relationships. He subsequently moved to the Wealth Management division of the bank, where he was part of a team providing corporate investment and lending solutions to key clients, and transitioned to business management, focusing on business development, strategy, and transformation. Gbenga holds a Master of Business Administration from Yale University, a Bachelor of Arts in Business Economics from Montclair State University, and an Advanced Management Certificate in Digital Transformation from IE Business School, Madrid, Spain.
Merle Griff, Ph.D.
Sr. Adult Day Care Consultant/Senior Advisor
Dr. Merle Griff is the Founder and CEO of SarahCare Senior Solutions, and one of the leading authorities on the care of seniors in the United States. Dr. Griff has served on numerous national boards and task forces including being the past Chairperson of the Board of Directors for NASDSA (National Adult Day Services Association), member of the International Advisory Board for CARF (Commission on the Accreditation for Rehabilitation Facilities), and a task force member for the study of adult day care in the U.S. for the Assistant Secretary of Program and Evaluation in the Department of Aging. She has been an invited presenter at both international and national conferences including the World Congress of Family and Child and The International Conference of Educators.
Cheri Kaufman
Senior Advisor
Cheri Kaufman is a successful entrepreneur, visionary, and global thought leader. She's built a leading network of influencers, investors, and innovators dedicated to building high-growth companies who are transforming industries in technology and life science. She has created numerous startup programs and established an efficient screening process for how to source, qualify, advise, support, and showcase the most promising high-potential businesses seeking capital or partnerships for product development and expansion. Most recently, she joined Veterans Services USA (VSUSA), as Partner and Senior Development Advisor, focusing on procurement and development of housing and vocational opportunities for veterans.
Ms. Kaufman is an important, long-standing, and recognized member of New York's philanthropic community and is the Founder and CEO of CiGIVE, an organization dedicated to empowering enterprising young professionals by connecting them with the patronage and support of leaders throughout the business and philanthropic world. She currently serves as NY Chair and board member of the National Women's History Museum.
As a founding partner of Kaufman Astoria Studios, Cheri played a crucial role in starting the studio on the successful path to its prominent place today in New York's film and television industry. She raised over $100 million for financing and is a recognized leader in New York film production. Under her initiative, all the studio's sound stages were named after women who filmed there, including Diana Ross, Claudette Colbert, Gloria Swanson, and Helen Hayes.
Ms. Kaufman's early trailblazing career included a founding ownership of the trading company, Cherut International, trading in cement, steel, lumber, and other commodities, principally in the Middle East. While in the Middle East and Asia, as Vice President of Acquisitions and Development for Intercontinental Hotels, she wrote feasibility studies, raised multi-millions in project financing and
managed multiple facilities.
Over the years, Ms. Kaufman has worked with numerous leaders of private industry. She has hosted leaders in the business and entertainment industries such as Tim Cook and Michael Bloomberg, media, and entertainment conglomerate Viacom, along with real estate developers including Silverstein Properties, Kalikow Properties, and Helmsley Spear.
Ms. Kaufman advises on numerous boards, including the National Women's History Museum, LIFELINE New York Organization, the UN Women for Peace Committee, and the Museum of Modern Art (MoMA). She is an influencer and touring speaker, sharing about success and professional insights, with an emphasis on women and emerging entrepreneurs.
Cheri resides in New York City, The Hamptons, and Florida.